Hosting:
fragnet.net
Visit Fragnet
Rating:

3

Price range:

$0.17 per slot

Slots:

100 - 250

Trial period:

There is no trial version

Promo codes for Fragnet:

GGS

Server location of game hosting:

United States IL Chicago

United States CA Los Angeles

United States TX Dallas

United States NY New York

United States GA Atlanta

Netherlands Amsterdam

Denmark Copenhagen

Finland Espoo

Germany Frankfurt

United Kingdom London

Russia Moscow

Norway Oslo

France Paris

Sweden Stockholm

Brazil Sao Paolo

Singapore Singapore

Japan Tokyo

Australia Sydney

Payment cycle:

1,3,6,12 months

Website languages:

English

More details about Fragnet
Payment methods:
Mod support:

1-Click Mod Install

Customer support:

Email

Ticket System

24/7 Support

Notes:

Easy management

Full FTP access

Control panel:

Custom

Cluster support:

Free
Fragnet Networks AB offers customized solutions for all gaming services, allowing the customer to start with an affordable package while having the option to quickly upgrade to larger packages when needed.

General Information
Rust is an Early Access survival game on Steam, created by Facepunch Studios. We also make Garry's Mod, which has sold over 7 million copies.

Rust was inspired by games like DayZ, Minecraft and Stalker. It is a massive multiplayer game (currently up to 300 players per server) where you and other players are attempting to survive through the awful conditions, where humanity has been reduced to cavemen.

Rust's world is harsh. The environment is not kind. Bears and wolves will chase and kill you. Falling from a height will kill you. Being exposed to radiation for an extended period will kill you. Starving will kill you. Being cold will kill you. Other players can find you, kill you, and take your stuff. Fortunately for you, you can kill others and take their stuff. Or maybe you can make friends and help each other survive, using the game's building tools to create a safe haven.

We provide the tools. How players survive is up to them.

Features
~ 1 Click mod installs for:

Oxide
RUST:IO
~ Install Oxide plugins and add admins to your server with just 1 click

~ Live Server console access

~ Schedule tasks such as:

Server restart
Steam update
Oxide update
Console commands
~ Access to command line variables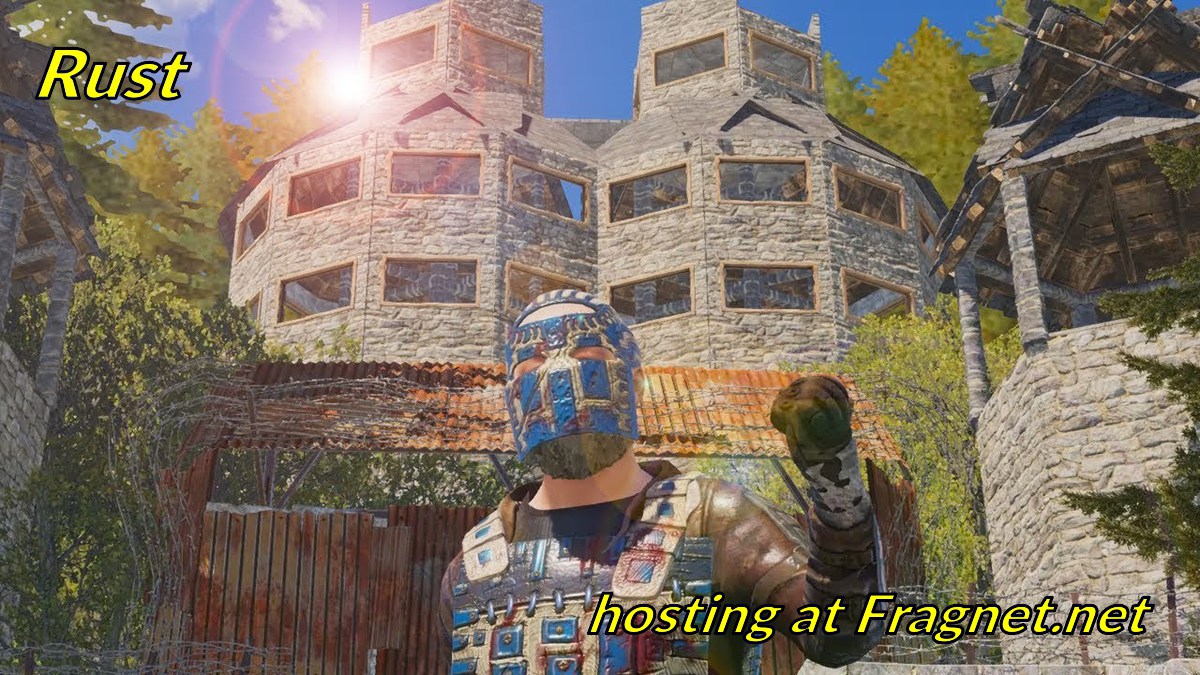 Last reviews about Fragnet:
had some difficulties with a server, and due to unforseen circumstance, had to cancel the server. staff was verry courteous and professional, and i recieved a refund with verry little hassle. i will be atempting to use them in the future for our ARK binge servers!

so i rented a game server for hong kong,but the sales website wasnt updated and so my server hasnt been setup at all.I sent a support ticket and they replied quickly and answered some of my questions nicely too,in the end i asked for a full refund and they gave me one despite their terms of service so i am happy with them

would rent a hong kong server from them if i need one in the future

Just found out Fragnet has trustpilot and after seeing the negative reviews I felt like something is wrong.. I have a Battlefield 4 60Hz server with them in Germany (closest I could find to where I live in Greece) and the ping is really the lowest I have seen to Germany (40-45ms).

Support was helpful enough with the initial configuration of the server and also got me a procon layer setup with some plug-ins.
No complains so far (been using for a month now).

I will keep the review updated in case anything changes!